Order A CMH Concrete Pump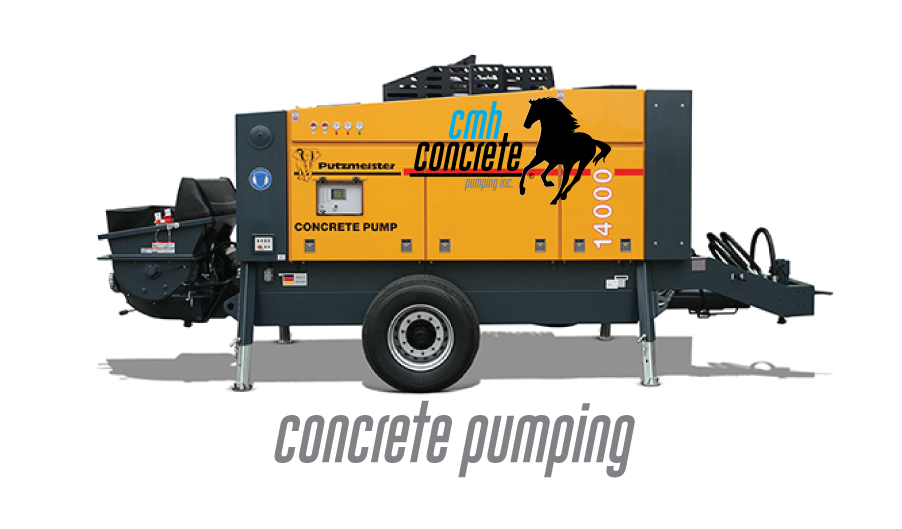 How To Order A CMH Concrete Pump
There are certain things we need to know in order to get a pump to your job site at the right place and the right time.
Reserve Your Pump Early:  Even though we have several concrete pumps operating on any given day, reservations are first come, first served.  If you know when you will be pouring concrete, please reserve your date and estimated time so your order will be on our dispatch schedule. (SEASONAL ALERT: Late April Through Early October demand for our pumps are highest. We recommend that you book and pay for your reservation as early as possible during peak season to ensure you get a pump when you need it.)
Double Check Accuracy:  Be sure to double check your order, contact information, and reservation time.  Errors in your reservation can cause costly delays.  Carefully review your form before submitting: Correct email address, cell number, and job site address are all critical.
Rates:  Concrete pumping rates are based on location, hours in use, concrete mixture being pumped, and volume of concrete pumped.  Base rate for a pump is $595 for 3 hours. Additional hours are $125 per hour.  

Transportation fees:

 Pump delivery inside of Denver is included in the base price.  Ask your concrete pump rep about transportation fees for other areas outside of Metro Denver and other locations throughout Colorado. There is a $125 expediting fee for last minute reservations (made within 12 hours or less of the reservation). Call us at 303 862 2280 for payment instructions to expedite your order.
Payment: 

Please pay in advance to confirm your pump reservation.

 This is required if you do not have an established commercial credit account with us.  Established accounts can pay by check to the operator at the time of service, or online the same day of service.    We accept checks, PayPal, AMX, Visa, and MasterCard.
Expectations:  When our operator arrives at your job site he will be prepared to set up and operate the pump as your concrete trucks arrive.  It is your responsibility for your 'finishing' crew to take it from there.
Thank you for your business!  CMH Concrete Pumping is committed to delivering quality and reliable concrete pumping services to your job site.
CLICK HERE to pay for your pump.  Prepayment is required too ensure your pump reservation is confirmed.  PAY HERE.